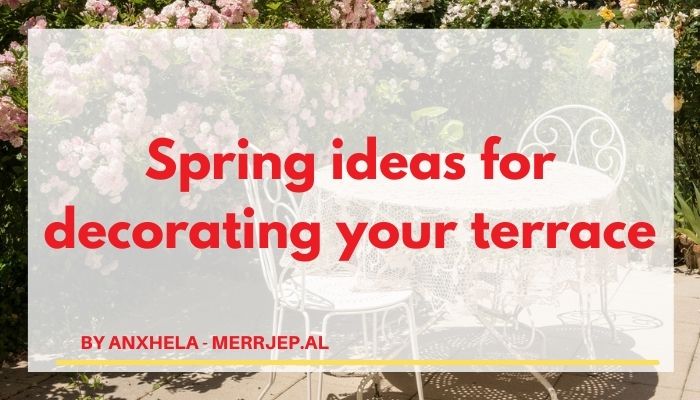 Spring ideas to decorate your terrace
Spring has arrived, flowers have blossomed, trees have gained their leaves back.
"Spring is the time of year when it is summer in the sun and winter in the shade", Charles dickens has quoted. Birds singing, no more rainy and cold days, the fur coats season is finally over. To not miss out on all that spring season has to offer we are bringing you spring ideas to decorate your terrace. Spring ideas to decorate your terrace is all about bringing you joy with a makeover for your terrace. 
Flowers and plants
The more space you have, the better it is, because you can add as many flowers and plants as you want. Talking about spring is also talking about flowers. Flowers are key decoration, colors, good smell, positive vibes. Do not add only flowers like roses, petunias, daisies, try some green plants too. For example a bonsai tree. Bonsai trees contain maintenance but they carry a deep meaning within them, they are believed to spread joy, balance, and harmony to their owners. On the other hand, flowers are beautiful too, remember to water them every day, don't expose them to direct sunlight for more than an hour, depending on the flower type.
Adding flowers to your terrace is not something just to please your eyes but it can also turn into a stress relief hobby. Gardening is considered to be a great form of therapy after a long day of work. You will get so attached to your greens that you will feel the need to invest in gardening tools. Gardening tools will make your new hobby easier and you can take better care of your plants.
Sofa 
Your terrace needs to be a comfortable space, your "Zen" place, so you need to personalize it your way. To enjoy your terrace view on a summer night, you will need to add a comfortable sofa. Find a comfortable and affordable sofa for your terrace and enjoy the view. 
Table 
What brings everyone together? A table. Gather your loved ones with a small center table. A small center table is a great choice for spring terrace decoration since you can multi-use it. Use it as decoration, hold the cold drinks and snacks while you are having a great time with your friends, use it to play games like card games.
If you are more into big tables and you have enough space for one, then a dining table is the one for you. It takes more space but it is more comfortable and allows you to invite more people over because you can choose how many chairs you want. A dining table for your terrace may sound a bit contradictory but actually, it is not. After all, it is your terrace, your rules and you use whatever furniture you desire. 
Tent 
Careful from the sun, it burns. As temperatures get higher in springtime, you need to apply your SPF every two hours, but only SPF is not enough. As much as we might enjoy a few minutes of direct sunlight, it is extremely dangerous. So wear your SPF and protect yourself by installing a tent on your terrace. A tent will not let the sun come through while you are enjoying your day on your terrace, drinking your cold iced coffee. A tent is always a must if your terrace is exposed to the sun, so you can be protected.
Lights 
While the sun is shining during the day and brightening everything, what about during the night? 
You will need lights. Lights are essential to prolonging your stay on your terrace. Besides the main purpose, you can also use them as decoration. Lamp's main purpose is to light but have you ever noticed how beautiful their design is? Standing lamps are a great choice for any terrace and they go well with the interior. Little touches of light with hanging light walls will look so nice and are very trendy too. Choose the right lighting for your terrace by keeping in mind the structure that your terrace has, not every light can look great in every place.
Grill 
For the barbeque fans, a grill is next on the list. First, ensure that your terrace is an appropriate place to use a grill and if it is then it's BBQ time! Grilled meat, grilled fresh veggies, all your family or friends together, sounds amazing. We guarantee that even your neighbors will want to join you when they will smell your grill. There are many different types of grills that work with coal, gas, and woods or you can differentiate them even by their size. Find one out of many options there are offered for grills, invite your loved ones, gather around a table and enjoy.
Audio system and projector
If your terrace is a private place and you cannot disturb the neighbors, an audio system is a fun and good choice. Organize a fun activity with your friends on a spring night like karaoke night, a dance battle between your friends, and shake the stress away!  Everyone can play their favorite song for karaoke or to dance to and to make it even more fun, you get to choose a winner. But what does the winner get? They get to choose what movie to watch. 
Oh, you don't have a projector for a movie night? You should think that again. Imagine how much fun it would be to add a projector to your terrace and have everyone over for a movie night. Get your terrace one now if you have a wall or you can improvise something like a white sheet to face the projector and enjoy your favorite movie. Everyone would love you and your new outdoor cinema. 
Decorating your terrace is something that you and all your loved ones will be thankful for. Apart from being an amazing place for you and your loved ones to gather and have a great time, your terrace can also be your escape zone from the stress and the noises of the city. A well-decorated terrace will also add value to your property. It will increase the price value if someday you decide to sell your house.